Swimming Pool Fence Installation In Detroit, MI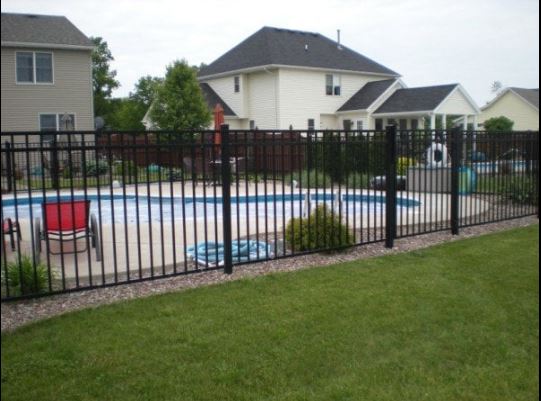 Drowning is one of the most common causes of accidental death among children under five years old. Fencing City believes that the safety of your family should come first. We have dedicated fence builders and fence installers that will ensure your pool gets a sturdy, safe fence around it.
Safe for adults and kids

Create a barrier for onlookers

Unique and customized

Adhere to local Michigan pool fence ordinances
More and more residential properties in Detroit, MI are built with swimming pool fences. Our fencing company plans on keeping homeowners safe. We will leave no room for compromise when it comes to the protection and convenience of residents.
Professional Pool Fencing Installation And Repairs
If you need a pool safety fence installed on your residential property, our fence installation contractor will take care of it for you. We offer:
Professional swimming pool fence installation services

Custom installation for any size of swimming pool

Fence installation for indoor and outdoor pools
Our swimming pool fencing will help minimize exposure, increase safety, without sacrificing enjoyment.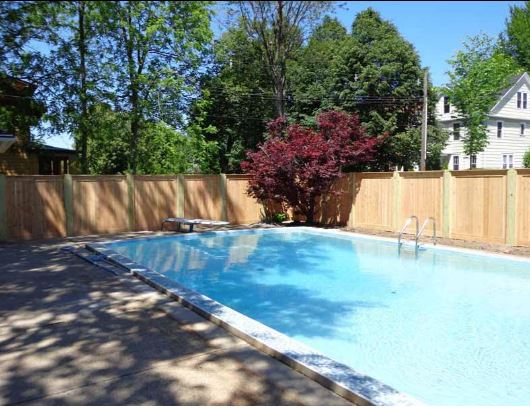 Swimming Pool Fence For Heightened Pool Security
Pool fencing is extremely important for guaranteeing safety around the pool area. It prevents anyone, especially children, pets, or someone intoxicated from accidentally falling into the pool and drowning. 
A pool area that is not completely fenced poses dangers. It is like an invitation for mishaps or accidents to happen. Drowning is the last thing you would want to happen in your home. Check your pool fence options below:
Mesh pool fence
This type of pool fence is one of the most used types of safety fences to secure residential swimming pools. It is an outstanding option since mesh pool fences are quite strong.
Aluminum pool fence
The aluminum pool fencing is highly recommended for its rust-free and durable material. Plus, it is cheaper to install compared to other kinds of swimming pool fences. When looking for a simple-looking pool safety fence that will provide the optimal security you need, this is something you should consider.
Wrought iron pool fence
Another popular option for pool safety barriers is the wrought iron fence. This one offers elegance in design and will definitely make your pool area more aesthetically pleasing. Because it uses higher-quality material, you could expect to pay more for building and installation.
Wood pool fence
This kind of pool fence is easily customizable. You could choose from a plethora of designs, shapes, sizes, stains, or colors. However, wood fences need regular maintenance to prolong their life and to prevent cracking and warping from happening due to UV rays and harsh weather elements.
Glass pool fence
This type of swimming pool fencing is an elegant fencing solution that allows an unobstructed view of your pool area. It is easy to maintain, unlike the other pool fences. With enough height, pets and kids cannot easily climb this kind of fence. You also have two options for a glass pool fence which are frameless and semi-frameless.
Pool fencing serves as barricades that will keep your family and pets out of the pool. If you are still unsure what type of pool safety fence will blend perfectly with your home, reach out to us.
Our residential fencing crew has a bunch of ideas that they would share with you! Schedule your appointment with our expert fence builders, by giving us a call today.
Detroit Pool Fence Cost
The average cost for installing a pool fence in the Detroit area is around $5,000 to $15,000. However, the installation cost may increase depending on what type of safety fence you choose, labor costs, surface preparation, equipment for the pool fence installation, and location among others.
Other factors that could increase the project costs include:
Any permits needed for the Detroit pool fence installation project

General contractor fees

Building inspection fees

Supplies and materials sales taxes
For more information regarding the costs, please ask our specialists for a free quote. Note we can work with your local hot tub moving company if you need to switch out units.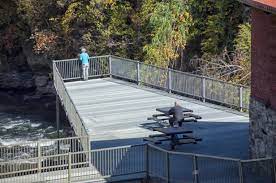 Contact Fencing City Today For Your Custom Swimming Pool Fence
As a local fence building company, we are confident that our seasoned fence installers can handle your requests. We are happy to give a free estimate and discuss our residential fence installation and fencing repair services. Reach us via phone to talk with one of our specialists.