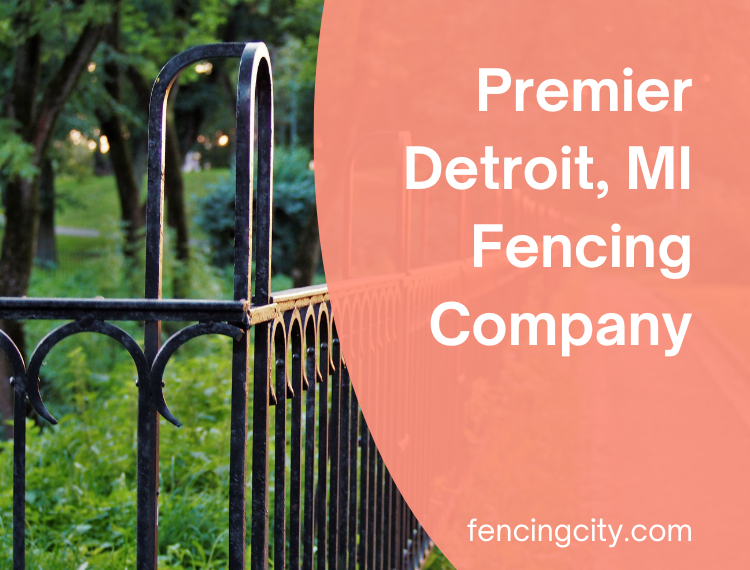 Fencing City specializes in building protection and barrier for residential customers. We are a professional fence installation company servicing residential areas across Detroit, MI, and the surrounding areas.
Our fencing company is providing safety and comfort to families around Detroit for years with our high-quality fencing and a reputation for giving outstanding personalized services. Fencing City's installation team is here to give you the best quality residential fence.
Incomparable Fencing City Service for Detroit Customers
Fencing City is your trusted Detroit, MI fencing company. We install residential fences that give the utmost protection and privacy our customers need. 
As a Detroit,MI fencing company that has been around for years, our installation team is continuously honing skills to produce excellent results and we aim to serve even more communities.  
Wood Fencing
Our team of fence installers knows everything there is to know about wood fencing and can advise on the best wood required for your specific needs.
Vinyl (PVC) Fencing
There are many positives to using a vinyl fence, one, most obviously, for its particularly stylish look. Our crew has extensive experience in installing PVC fencing panels. 
Aluminium Fencing
Aluminium fencing is a common choice for residential owners because of its low maintenance and installation price. We at Fencing City can provide a quick and easy installation for aluminium fencing.
Swimming Pool Fence
It is essential for swimming pools to be enclosed with a fence, especially when there are kids and pets around. Our fence installers can build creative pool fences that provide safety and security while complementing the appearance of your garden.
Fencing Repairs
Maintenance of your fence is crucial because the changing weather can cause fences to deteriorate fast. Other external elements can also cause problems to the privacy fences. Remedying issues right away will help avoid fences from deteriorating to the point of needing replacement, helping you to cut down on further repair costs!
Ornamental Gate
Aside from providing sound security, ornamental gates are quite stylish too. We can professionally install wrought-iron gates to your residence.
Chain-link Fence
For some homeowners, the chain-link fence is the most reliable option. We have extensive experience in installing chain-link fences and slats for residential properties. Colored chains? Heavier pipes? No worries.
The entire Fencing City team has the professionalism and skills that take every fencing job seriously. Every custom fence we help install is tested and inspected with no shortcuts in our process.
Let us talk about your residential fencing needs!
We Are Fencing City Your #1 Detroit Fencing Company
Fencing City offers tailored solutions to Detroit, MI homeowners and we partner with local specialists and manufacturers to meet unique customer requirements. 
Stable and effective fencing is crucial for your and your family's protection. Our Fencing City installation team talk with you to understand your specific needs and answer all of your concerns during the fence installation.
Our strategies will complete the job faster and more affordably without compromising quality. Our fencing company with the expertise spans years with a mix of new and old techniques.
Still not convinced we are the right fencing contractor or fencing company to hire?
We are experienced in every step of fence installation and repair.

We respect our customer's homes like it is our own.

We are highly reliable fence installers.

We are a come up with only the safest and most effective remedies to issues and challenges.

We look out for even the closest details that can have an enormous impact on the installation process or results.
You can rely on Fencing City to build the protection you need.
Let Us Connect!
Ready to install your home's fence? Fencing City is a team of creatives and problem solvers. Our fencing company will help achieve your goals for your home.
Let us discuss your needs today! Visit our office or call us to receive a free fencing installation estimate.